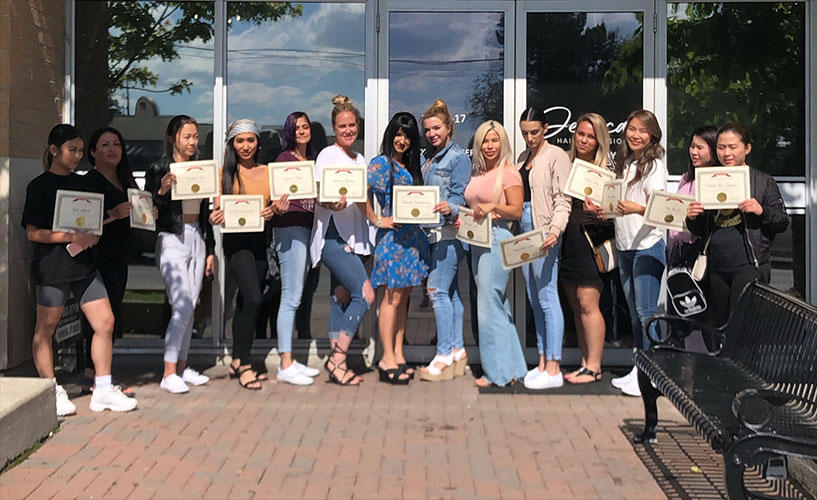 Hands-on Hair Extension
Training & Certification
---
Join us today and turn your passion for hair extensions into a high-paying career! Our comprehensive hair extension training classes in Toronto will equip you with the skills and knowledge to become an expert in applying extensions for beautiful results. You'll also learn how to master the art of sales so that you can turn your skills into a lucrative business. From safety precautions to styling tips and everything in between, we will provide you with the tools and guidance you need to succeed. So take advantage of this fantastic opportunity to take your passion to the next level. Start your journey with us today!
No licensure or prior hairstyling experience is needed!
Course Curriculum
---
Unleash your full potential as a hair extension artist! Spend a day with us and transform your skills in a hands-on training course that covers both theory and practical aspects.

Our expert trainer will guide you step by step, allowing you to work on a training mannequin and hone your techniques. As a result, you'll leave with a newfound confidence and a comprehensive understanding of hair extensions. And the best part? Upon successful completion, you'll receive a well-recognized Jessica Hair Extension Technician certificate - proof of your newfound expertise.

Here's a sneak peek at what you'll learn:
Client Consultations

Colour Matching Techniques

Adding Highlights & Lowlights

Application of 4 Different Methods

Removal Techniques of the 4-methods

Sectioning & Creative Placement Solutions

Aftercare, Maintenance & Re-positioning
Client Hair Analysis & Identifying Issues

Hands-on Technical Application

Blend, & Shape Extensions

Hair Quality, Textures & Supplier Info

Social Media & Marketing Techniques

Earning Potential & Pricing Breakdown

FAQ's, Waivers & Liability
Invest in your future and start your journey to becoming a confident and skilled hair extension technician. Enroll now!
Business Starter Kit
---
Empower yourself with the tools of success: Our Business Starter Kit is the perfect launchpad for your hair extension career. With all the must-have tools to master all four application methods, you'll be able to hit the ground running and start building your client base right after graduation. And if you prefer not to purchase the kit, don't worry; you'll still have free access to our academy's tools during class.
Master Training Manual

Practice Hair for All Four Methods

Mannequin Head With Human Hair

Tool Kit Carrier & Storage Case

Scalp Protector Heat Shields

High Heat Resistant Mat

Fusion Bonding Tool

Universal Plier Tool

Bead & Copper Tube Looper Tool

Sectioning Clips

Alligator Clips
Pin Curl Double Prong Clips

Rat Tail Comb

Loop Hair Brush

Maintenance Tape

Keratin Bond & Tape Remover Gel

Keratin Granules

Silicone Beads

Micro Beads

Euro-lock Copper Tubes

Colour Ring with Human Hair
Why Choose J.H.E Academy?
Expertise in Hair Extensions
With over 15,000 successful hair extension applications and the #1 highest-rated hair extension salon in Toronto, the Jessica Hair Extension team is the epitome of expertise in the field. With over a decade of experience, we've helped over 1,000 women achieve their dream hair.
Real-World Experience
J.H.E Academy offers hands-on training that combines theoretical knowledge with practical experience in real-world consultations, application, re-application, and maintenance of hair extensions. With the academy, you not only get a comprehensive understanding of the field but also get to put it into practice.
Maximized Investment
With the best hair extension training program, J.H.E Academy provides maximum value for your investment. From entry-level to expert-level, the academy's training programs are designed to help you succeed and reach your full potential as a hair extension professional.
What Our Graduates Say
---
I took this hair extension course and I highly recommend the class. Jessica has been in this business for years and you can tell she knows what she's talking about. She has the best tips and advice. She's truly the best. So happy I chose her for this course!
Jessica was extremely knowledgeable about hair extension and she knew everything about the industry I really learned all about hair extension and the industry's I would highly recommend training with her.
I took jessica's hair extension training class and it was finominal. I feel amazing after leaving the class and learned WAY more then what I was expecting. She is AMAZING!!!
Jessica is knowledgeable and kind. Her training is thorough and it's clear that she is passionate about both training and practicing hair extensions.
Benefits of Attending J.H.E Academy
---
Transform your career with the Jessica Hair Extension Academy! Here are just a few of the amazing benefits you'll experience when you enroll in our course:
Master the art of hair extensions - Learn four primary methods (Fusion, Tape-In, Micro-Ring, & Euro-Lock), advanced color matching, blending, and layering techniques, and how to create the perfect finish.

Boost your credentials - Receive a widely recognized certificate of completion that opens doors in Canada and the United States.

Access the best products - Get access to top professional wholesale suppliers such as Bellami Professional, Glam Seamless, Hot Heads, G.B.B. Hair Extensions, and more.

Rely on post-class support - If you need extra guidance, we're here for you with post-class backing to help you succeed.

Launch your business quickly - We'll create a modern, search engine-friendly website with a logo and an easy-to-remember domain name.

Learn from the best - Our expert trainers will teach you real-life skills, not just theory, and we take our education seriously. If you feel you need more confidence after the first day, we'll offer 100% free re-training until you do.
Join us and take your hair extension skills to the next level!
Frequently Asked Questions
---
How long is each class session?
Get ready for an intense, but manageable learning experience! Each class lasts around 8-10 hours with a possible extension of 15-30 minutes.
What do I need to bring to class?
Bring a pen and paper to take notes and jot down important details. We've got everything else covered!
What about lunch?
We've got you covered there too! We provide coffee, snacks, and lunch to keep your energy levels high. At the same time, you learn and absorb all the information.
Will I receive personalized attention during class?
Of course! Our experienced instructor is dedicated to answering all your questions and providing personalized tips to help you succeed.
What if I have questions after class?
No problem! We're here to support you even after class is over. You can reach out to us anytime for post-class educational support.
Do I need a license to participate in the hair extension course?
No way! A license is not required for you to join us and start learning.
Is a high school diploma necessary to enroll in the course?
No, not at all! A high school diploma is not a requirement for you to join the hair extension course.
What's the difference between the Master Class and the Master Class + Kit?
You'll receive the same top-notch training in both options. The only difference is that the Master Class + Kit includes a Business Starter Kit as part of the training program, while the Master Class does not.
Is the Master Class Pro only for experienced students?
Not at all! The Master Class Pro package is designed for all students, regardless of prior experience. It includes fees for the Master Class training, the Business Starter Kit, and website development.
Stuck and need help finding the answer you need? Reach out to us! We're always here to support you with any questions or concerns. Send us an email at info@jessicahair.ca or call (647) 883-5719, and we'll be more than happy to answer all your questions. Our team is dedicated to your success, and we'll do everything we can to ensure you get the answers you need right when you need them.
Online Registration
---
Ready to kickstart your hair extension career? Enroll in our comprehensive course today! Whether you're a seasoned stylist or a beginner, you'll gain valuable knowledge and skills to become a successful hair extension specialist with a loyal client base.
Past classes:
April 18, 2023
has reached full capacity
May 23, 2023
has reached full capacity
Upcoming classes:
July 25, 2023
4 spots left
August 22, 2023
8 spots left
September 26, 2023
10 spots left
Choose Your Class Date
---
Pick the date that works best for you and your schedule.
Pick Your Course Package
---
Our three packages cater to different levels of experience and ambition.
Masterclass Pro: This comprehensive package is perfect for stylists who are serious about taking their skills to the next level. You'll receive a Masterclass training session, a Business Starter Kit, and a website to help you establish your brand. With this package, you're on your way to building a successful hair extension career with repeat clients.
MasterClass Pro: Enroll Now
Master Class + Kit: Get hands-on experience with this package, which includes the Masterclass training session and the Business Starter Kit. You'll have the knowledge and tools to jumpstart your career as a hair extension specialist and the opportunity to apply what you've learned in class.
Get MasterClass Training + Kit
Master Class: This introductory package is designed for stylists with experience who want to improve their skills. Our expert training will give you valuable knowledge, but without the added tools and resources of the other packages.
MasterClass Training Only: Sign-Up
Choose the right package for you and take your hair extension skills to the next level!

Go Back
Secure Your Spot
---
Confirm your registration by making a $200 deposit (which will go towards your balance) or paying the entire enrollment fee.
Your Course Package Includes:
Master Class Training$
Bussiness Starter Kit$
Website Development$
SUB TOTAL:
$
HST:
$
AMOUNT DUE:
$
Master Class Training$
Business Starter Kit$
SUB TOTAL:
$
HST:
$
AMOUNT DUE:
$
Master Class Training$
HST:
$
AMOUNT DUE:
$
IMPORTANT NOTE: The $200 deposit is non-refundable and will secure your place in the class of your choice.
Payment can be made easily online, by phone, or in person at the salon. You must pay the remaining balance five days before your class starts.
Are You a Salon Owner?
Unlock the Benefits of In-Salon Training.
---
Imagine your stylists mastering the art of hair extensions and bringing a new level of expertise to your salon. That's what we offer! Contact us to learn more about getting the training to your salon and allowing 5 of your stylists to transform their skills and drive more business.
Find us at
10211 Keele Street, Unit 17
Vaughan, ON, Canada
Contact us by
(647) 883-5719
info@jessicahair.ca
Join us for our Next Class on
July 25, 2023
10:00 AM to 6:00 PM