frequently asked questions about hair extensions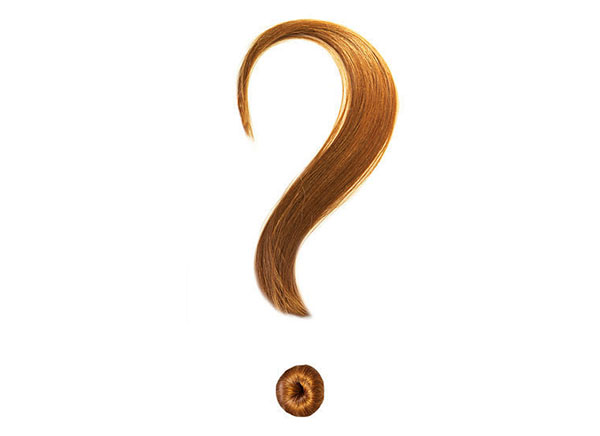 There are a lot of women who are afraid of having hair extensions, particularly those who have never had a procedure done before. In reality, there is nothing to worry about, as it is the same routine treatment as a manicure or a facial.
Here you can find frequently asked questions about hair extensions that we have gathered from women, along with answers that can help you make a more informed decision about your hair transformation
It all depends on application method you choose. For hot-Fusion We start by parting a small section of your hair, then criss-crossing it over the hair extension and bonding it with keratin using the Hot-Fusion machine. Properly applying extensions is intricate work, which is why it's so important to work with a professional who has plenty of experience specializing in hair extensions. Many salons in Toronto offering hair extensions as a side service, but at «Jessica Hair Extensions» we're dedicated to hair extension applications. Our specialists are highly trained and experienced, so you never have to worry about the quality of the finished project.
When applied and cared for properly, your hair extensions will last from four to six months. The hair is also completely reusable for as long as one year,However, we don't use your old hair, we only apply NEW hair from the package every application, which means that you will not be paying for new hair every time you visit «Jessica Hair Extensions» in Toronto or Vaughan.
The same routine you use to care for your natural hair can be adjusted to fit your new hair extensions. Toronto's best and brightest are available to help you learn how to maintain your new look at «Jessica Hair Extensions», and to understand the best upkeep methods. Your hair will degrade over time, even with the best care, so we recommend that you opt for salon-quality products to extend the life of your extensions. When your own hair begins to grow out, you'll need to have your extensions reapplied and freshened. Please read full AfterCare Instructions
To remove your hair extensions, a solvent should be applied to release the keratin bonding agent. With gentle massaging, your extensions will loosen and become easier to remove. You can complete this process at home, but we recommend that you visit a professional to ensure that the quality of both your natural hair and your extensions are preserved.
We know that the desire for long, flowing locks is the motivation for considering hair extensions. Toronto hair fashion trends and our own experience indicates that the most popular length is 20", but you can go longer if you'd like. We do recommend that our clients choose a length no greater than 24" to avoid uneven pressure and damage to their natural hair, though.
When your extensions are properly applied by an experienced stylist at «Jessica Hair Extensions», you don't have to worry about any tell-tale signs of extensions when you opt for an up-do. On those days when you feel like wearing your hair up, you will have no worries. Whether it's a simple ponytail or an elaborate chignon, your up-do will look totally natural and all yours.
In addition to the client reviews and before-and-after photos from past clients, you can take a look at the certifications obtained by «Jessica Hair Extensions», With over 10 years of experience, Jessica understands the unique needs of her clients seeking hair extensions in Toronto and Vaughan.
All of the hair extensions applied at «Jessica Hair Extensions» are made up of 100% Remy human hair. That means that you can use the same heat styling processes for curling and straightening that you would use on your own, natural hair.
Sometimes hair extensions need to be colored to match your own hair, and sometimes you just want a change altogether. Because we use 100% Remy human hair extensions at «Jessica Hair Extensions» in both locations Toronto & Vaughan, you can color your natural hair and your extensions, even after they've been applied.
If you're a curly girl who'd rather have straight extensions, or a have straight hair when you'd rather have flowing curls, we have a solution for you at «Jessica Hair Extensions» Your extensions can have straight, curly or wavy textures, even if your natural hair texture is different.
There are a wide variety of methods that we use for applying hair extensions. Clients from Toronto & Vaughan typically prefer the hot-fusion method with keratin used at «Jessica Hair Extensions», which is the safest and least detectable method for application. Keratin bonding allows the hair extensions to last up to six months, all the while looking completely natural. With the hot-fusion method, admirers of your new look will never be able to tell that you're wearing hair extensions.
In the end, the professional you choose to apply hair extensions in Toronto or Vaughan is completely up to you. Still, «Jessica Hair Extensions» offers a much greater value than many salons in Toronto offering comparable services. You'll find our prices as much as 50% lower than charged by some of our competition. We offer free quotes and consultations to discuss your unique needs, and can typically complete a full application within two to three hours.
Contact us today to make an appointment for a free quote and no-obligation consultation.
Don't see the answer to your questions here? Ask us!